Our greyhound event "Grapehound Wine Tour" co-sponsored with Keystone Greyhounds of Central Pennsylvania was a huge success in 2009 with over 500 people and 400 dogs attending throughout the weekend of July 26th, 27th & 28th. The weekend began with a Welcoming Gathering at the two wineries on the East side of Cayuga Lake, King Ferry Winery and Long Point Winery. On Saturday and Sunday the west side wineries hosted the event with vendors selling everything from T-shirts, collars, and even clocks. Gigi pictured to your left is taking a well deserved snooze!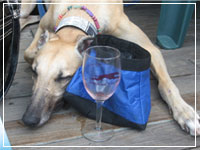 There were 8 different Adoption agencies represented at the event and part of the ticket proceeds will be donated on their behalf. The ice cream social at
Cayuga
Ridge Estate was a huge success with yogurt donated by Forever Home Greyhound Adoption of
Middleburgh, NY
for the dogs and heavenly ice cream for their owners. Another ice cream social was held on Sunday at
Taughannock Falls State Park
hosted by the Northeast Chapter of Greyhound Adoptions of
Florida
. This event is certainly geared towards greyhounds and their owners but what a remarkable sight.
Join us next year to see these docile, majestic animals!