Dear Greyhound Friends,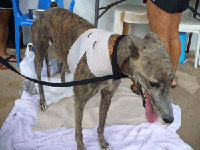 I hope you will take the time to look at this website that was just put up to get the information out about the plight of the Guam Greyhounds. This is the tragedy of a track that was closed and the Greyhounds given away and left abandoned to fend for themselves. Yes, there are a few disturbing pictures in the body of the website, but this is REALITY for these dogs who have no one else to help them if we close our eyes. I ask each one of you to look into the eyes of your Greyhound. What if someone had closed their eyes to him or her because she was emaciated and hurt, no, friends, that is when we need to look and help, we need to take action. There are many dogs in the states that need our help, but, here there are groups ready to help, in Guam they have no one except the one animal shelter GAIN that has been rescuing these greyhounds for the past few weeks.
If you live in California and can foster in the future, once the dogs are treated and deemed ready for fostering, please let me know. If you cannot foster or adopt, then we need your help financially for medical, food, transport etc etc?. Ten dogs are already at Homestretch Greyhounds in Fillmore and will be ready to be moved into fostering and more are coming..Look at the site and join me to help the helpless? they need us.